Multi-Cloud Monitoring
Swell Cloud - Multi-Cloud Monitoring" is a service that allows the monitoring of multiple cloud computing environments and multiple data centers via a centralized monitoring tool.

We provide a unified monitoring system that supports the continued success of your business through the prevention and early detection of problems, from a collection of cloud servers operating in a single cloud environment, to a collection of cloud servers with multiple environments experiencing data center or network failures.

By continuously monitoring various server resources (CPU, memory, etc.), process creation and termination (HTTP, SMTP, etc.), network port openings and closings(TCP 80. TCP 25, etc.), notifications via e-mail will be sent to the appropriate person in charge.
Have you ever experienced these issues while utilizing the cloud?
"I would like to try various different cloud environments, but creating a new monitoring system every time is costly."
"I am utilizing many different cloud environments, but the mechanism of monitoring each type is different."
"I can set up a cloud server within minutes, but setting the monitoring configuration takes forever by contrast."

Features of Multi-Cloud Monitoring
Multiple cloud environments monitoring via a single monitoring tool
Resource status graphs, process creation and termination, and open and closed port monitoring
Resource status graph accessible via your own specialized monitoring page
E-mail notifications upon detection of failure
Installation of other monitoring agents is unnecessary (for example, using SNMP)
Flexible monitoring configurations
Keep the same monitoring environment even if the server environment is changed
Benefits of Multi-Cloud Monitoring
Possible to check the resource status graph of multiple cloud environments at any time in a single location
Planning server expansion or reduction is easy
No need to change any build or configuration settings after an expansion of the server
No need to install special monitoring agents to the server (If more advanced monitoring is required, it may be necessary to install a monitoring agent of our selection)
We support many cloud computing environment, you can move your environment easly.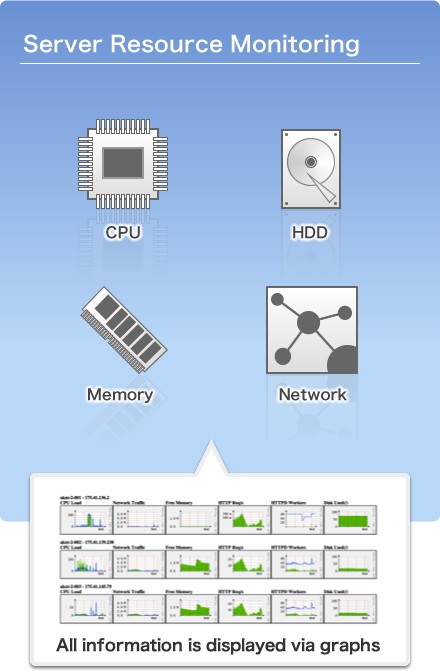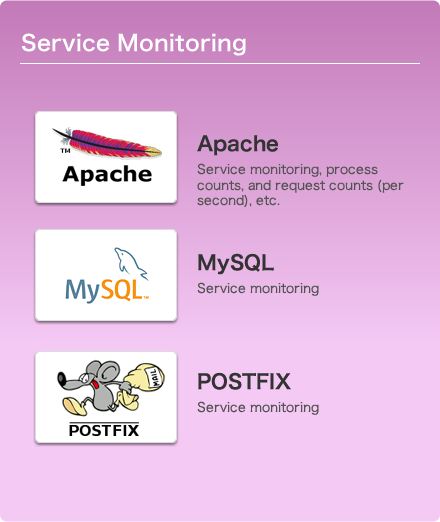 ---

Monitoring server features
OS
Linux-based OS

*1

Monitoring Agent
SNMPD

*2

Resource Monitoring
CPU Load Average, CPU Usage, Network Traffic, Disk Usage, Disk I/O

*3

Process Monitoring
httpd,sshd,snmpd,mysqld

*3

Port Monitoring
TCP、UDP Port(Open/Close、Response time)
Others
Apache Server-Status(Request Count, Idle Process Count, Busy Process Count)

*4

Firewall
Open UDP/161-162 from the Monitoring System

※2
*1

We are planning to gradually expand the number of supported OSes.

*2

We can provide special monitoring agent to get further detailed monitoring.

*3

Please contact us for information on other process monitoring.

*4

Please contact us for information on other available monitoring.